Having a meditation blog requires a lot of research and development of my writing skills. I found this infographic on how meditation can improve your writing skills from Wordcounter.net I thought you might enjoy.
So, how can meditation improve your writing skills?  Meditation can help anyone re-train their minds to perform with better focus and productivity. The biggest challenge of meditation is not the practice itself, but learning how to engage in it correctly. When creative efforts are stifled, many people grow desperate for a solution that can break them out of their funk and restore both focus and inspiration. Meditation is such a proven effective tool.
Meditation calms down your inner voices and you can listen and feel the peacefulness of mind which is essential for creativity. If you practice this process, you will realize over time, your creativity will improve to a new level.
Mindful writing? Isn't that an oxymoron?
Meditation is about training your mind to be focused and dedicated. So whatever you do that requires focus and dedication, meditation helps.
Mindfulness aims to still your mind. When writing, you want your mind to be working in high gear. The following infographic, "How Meditation Can Improve Your Writing," describes a short and easy mindfulness practice that anyone can commit to—and benefit from.
---
Check out this 5:00 video on how a Guided Meditation to Activate Creativity from Caren Baginski, a yoga instructor, and writer on how to use mindfulness for creativity.
5-Minute Guided Meditation to Activate Creativity | Sacral Chakra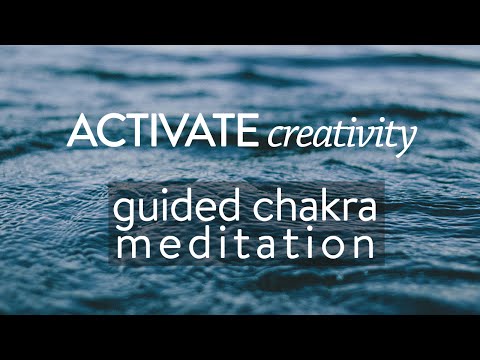 Activate creativity and your ability to be "in the flow" with this 5-minute guided meditation. This meditation style is useful for busy minds, allowing you to ease into deeper concentration and relaxation through visualization. Practice daily to open and energize your Sacral Chakra. Benefits include enjoying the pleasures of life without guilt, surrendering control to be "in the flow" of your creativity.
Related Questions
How can you use meditation to increase creativity? Be playful with your meditation, show yourself compassion and kindness. Plant idea seeds in the form of an intention, but then trust the universe to work out the details. Try a guided meditation video or mp3 if you normally practice silent meditations. On the other hand, try silent meditation if you usually listen to guided meditations. Be mindful outside of your meditation time and stay connected for the answers from the universe.
How does meditation relate to helping creativity? Mindfulness meditation is a great technique to learn to help improve overall creativity for more than just writing as well. It has side effects which have been shown to reduce the reactivity of the reptilian brain (something we could all use!), increase resilience to whatever life throws our way, stimulate the brain's neocortex function, as well as improve emotional intelligence, this also continues to be an increasingly popular skill to have in the professional world.