What is a guided meditation? Guided meditation is simply "meditation with the help of a guide". It's one of the easiest ways to enter into a state of deep relaxation and inner stillness, and it's one of the most powerful ways to eliminate stress and bring about positive personal changes.
How Does Guided Meditation Work? Guided meditations can be experienced either in a class with the help of a meditation teacher, or by listening to a guided meditation recording.
Most guided meditations follow this general format:
Your meditation guide will ask you to sit comfortably, or in some cases, you may be asked to lie down. You then listen to your guide while they lead you through a series of relaxing visualizations. As you gradually relax and become more and more still, stress fades away, and your mind becomes clearer and clearer.
While you are in this deeply relaxed state of mind, your subconscious is open to positive suggestions, and your guide will use this time to take you on an inner journey that is designed to improve one or more aspects of your life. For example, a guided meditation might be tailored to personal empowerment and positive thinking.
Another might focus on emotional healing or spiritual development. You might be taken on a guided journey to unleash your full potential, or you may choose to go on a guided meditation journey simply for the sheer pleasure of experiencing profoundly deep relaxation.
As you can now see, guided meditation can be an experience that is not only relaxing, but one that enhances your sense of self, that transforms your perspective in positive ways, and that inspires you to live your life to the fullest.
At the conclusion of your guided meditation, your guide will gradually bring you back to a state of normal awareness, leaving you feeling refreshed, rejuvenated and relaxed. A guided meditation might be as short as 5 minutes, or as long as an hour, depending on your personal preference. In most cases, a guided meditation of 15 minutes or longer is recommended if you wish to experience a truly deep state of relaxation and maximize the positive benefits of meditation.
The Best Way To Experience A Guided Meditation
Guided meditation CD's and MP3's are extremely useful as they allow you to experience meditation at any time or place that suits you.
Ideally, your guided meditation will include tranquil meditation music that will help you to relax even more deeply.
Some guided meditations also include nature sounds that are synchronized with the visualizations that you are guided through during your meditation. For example, if you are guided to visualize yourself standing in a forest, then you may hear the sounds of birds and trees swaying in the breeze. If you approach a waterfall, then the sound of that waterfall may become apparent.
You'll find that when you listen to guided meditation audio productions that include a vivid tapestry of visualizations, music and environmental sounds, your senses will be immersed in the experience and you'll be drawn deeper into the meditation.
But enough talk! Rather than read about it, why not download this free guided meditation and experience it for yourself!
Guided Meditation Makes It Easy!
Most traditional types of meditation require you to take command of your own awareness by concentrating your attention on a single point of focus.
This point of focus might be your breathing, it might be a physical action, or more commonly, it may be on a mantra – a sound, word or phrase that you repeat to yourself mentally so as to stabilize your attention.
While these powerful traditional meditation techniques are wonderful for achieving inner stillness and for enhancing your ability to concentrate, some people find them difficult to master.
One of the main reasons why guided meditations are such a popular alternative to traditional meditation techniques is because they require no previous training or effort to enjoy.
Even if you are someone who finds it extremely difficult to let go of thoughts, even if you are highly stressed or overloaded with mental activity, you will quickly achieve inner stillness and peace of mind when you listen to a great guided meditation.
Because guided meditation is so easy, it is very useful for people who are new to meditation. However, guided meditations can also be of great benefit to people who are very experienced at meditation. Experienced meditators will still use guided meditations in order to experience a deeper or more vivid meditation, to delve deeper into their mind than they are normally able, or to target a specific aspect of personal development that they wish to accomplish.
Still wondering "what is guided meditation?" Ultimately, the best way to find out is to experience one for yourself. So follow this link to download a free guided meditation mp3 and get ready to enjoy the bliss of effortless, relaxing meditation!
The Special Benefits of Guided Meditation
Guided meditations utilize the power of your imagination and the power of visualization to affect positive personal changes. In this regard, guided meditations are even more powerful than traditional, passive meditation techniques. To find out more about how guided meditation can help you, please click here to move on to the following article on the benefits of guided meditation.
How To Prepare For Mediation
You can meditate almost anywhere and anytime, but it's always a good idea to have a routine for your meditation practice. There are several reasons for this, including getting your mind and body ready to get quiet, getting your family to recognize that time and place as your quiet space and to ensure your meditation practice is consistent. Try these ways to prepare for mediation.
Choose The Time and Place
You want to decide on a time and place that will be quiet, with as few distractions as possible, for meditation. Turn off your phone, shut out the lights, tell your loved ones you are unavailable. It doesn't matter if you choose to meditate in your bedroom or in your office. The time of day is totally up to you also. Maybe when the kids are in bed or first thing in the morning is good. Just choose a time when you can have solitude and are alert enough to concentrate. Space can be big or small. The most important thing is consistency.
Light Scented Candles or Incense
This isn't something everyone might want to do, but it's a great way to set the tone for mediation. Our sense of smell is the best for recalling memories, so when you smell that familiar smell, your mind and body will start to prepare automatically for mediation.
Play Background Music
Some people prefer silence, and that's fine too. But beginning mediators find that total silence can be a bit too overwhelming at first. That might sound strange but think of all the noise we are used to. No matter where you go, you hear TV's or music piped in. If you want to play some music while meditating, find something soothing with no lyrics. Our minds tend to "grab" the words the singer is singing and wants us to sing along. Best to avoid that. Play the music softly so that it doesn't end up becoming a distraction.
Wear Comfortable Clothes
There may be times when you are in a suit and want to mediate. That's good too. But most people find it easier to sit for a while if they are as comfortable as possible. This means comfortable clothes. But if you get the urge to meditate in your suit or dress and heels, go for it!
Get Your Body Ready
Since we hope to reduce the amount of distraction, it's always a good idea to go to the bathroom, get a drink of water, blow your nose, put on a sweater, etc. before you sit. It's hard to concentrate when your throat is dry and you keep coughing.
Yoga Stretches
It's always a good idea to do some stretches before sitting, especially if you plan to sit for an extended period (whatever that means to you). While certainly not mandatory, doing a few simple standing yoga postures before sitting can prepare both your body and mind for sitting. Some that are good for this include cat pose, sun salutation, standing forward bend, chair pose and downward dog pose.
Article by Christopher Lloyd Clarke from www.The-Guided-Meditation-Site.com.
About the Author…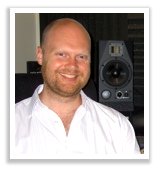 The author of numerous articles on the science of sound, Dr. Christopher Lloyd Clarke is well versed in the scientific principles of psychoacoustics and music psychology, and he applies these principles whenever he writes music for hypnosis and deep relaxation.
A long-time meditator himself, he combines the artistry and science of music composition with his own unique insights into relaxation states. Not only does he compose and produce music for professional meditation teachers, hypnotherapists and holistic healers, but he also has hands-on experience in personally using music to achieve deep, healing, transformative states.